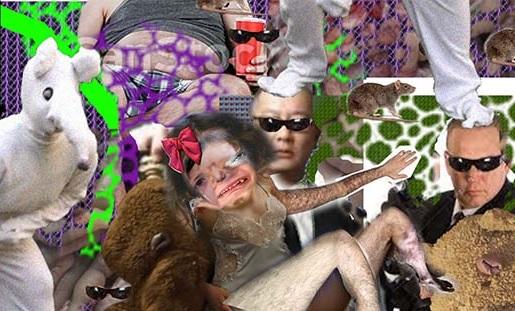 Five young artist form a temporary collective
For the fourth year in a row, KOP is working together as a 'kickstarter for art and design talent' with BUT Film Festival in Breda. Together they offer a young professional the opportunity to put together an art program that is in line with the festival theme 'Sweet sick teens'. This year, KOP selected Emmie Liebregts for this assignment. Emmie graduated in 2020 as a visual artist at St.Joost School of Art & Design in Breda. She asked five young artists to create a 'teenager room' in the basement at St. Janstraat 18 in Breda as a temporary collective during the But Film Festival. You will discover what will escape from 1 to 5 September!
THERE IS SOMETHING IN MY ROOM
The multidisciplinary art project 'there is something in my room' takes you back to your teenage years, but in a superlative way. Five visual artists create a teenager room that serves as a home base for their work during the 16th edition of the BUT Film Festival. You will find an explosion of works that play with everything that changes at this age, such as your body and your relationship to the world. As a teenager, your own room is the place to discover. The place where you don't have to take anyone into account. The artists are present as characters in a story that unfolds during these five days. The room is also occupied by a number of other figures, including a father figure, some life-size crawling rats and a CIA agent who emphasizes how "fucked up" we are.
ABOUT THE ARTISTS
Dakota Havard
Dakota Havard graduated in 2017 from Savannah College of Art and Design in USA. His work is generally about absurdism as the base level of our reality.
Sophie Hollander
Sofie Hollander graduated in 2020 from St.Joost School of Art and Design in de Fina Arts Department with her project 'Inblik', a series of radio broadcast that she made in collaboration with Malú van der Bijl. In het artwork Sofie searches for other forms of experiencing, storytelling an being together.
Ian Skirvin
Ian Skirvin graduated in 2018 from St. Joost school of art and design in Breda in the fine arts department. Ian's work is characterized by a visual language that refers to depraved and
hidden places. His fascination with the interior and the beauty of the objectionable are brought to life in the form of total installations in which the role of the spectator is challenged.
Joey Sepers
Joey Sepers graduated in 2021 from St. Joost school of art and design in Breda in the Fine Arts department. 'Hello my name is Joey Monopoly of the Monopoly Family, I am a performer, director, collector, trashmaster and a family man. The work that the Monopoly Family makes is always different, we work towards an environment and audience. Our topics are about power structures, shame (and how you can use it as a strength), humor, awkwardness, bizarreness and collectivity. This usually develops into a performative work in which I always want to involve the viewer and make them part of our work.'
Sachia Pereira Stolle
Sachia Pereira Stolle graduated in 2020 at Willem de Kooning Academy in Rotterdam in the Fine Arts department. He engages with human and animal behaviour in art and public space. The made work mainly comprises a combination of video, performance and interactive installations in which human-like animals play a role, in the form of designed costumes. The relationship between these characters and certain power structures or hierarchies in society is a recurring theme and forms exciting, sometimes confrontational and investigative stories
Who: Temporary artists' collective curated by Emmie Liebregts, consisting of:Dakota Havard, Sofie Hollander, Ian Skirvin, Joey Sepers, Sachia Pereira Stolle
What: Art project 'There is something in my room'
Where: St. Janstraat 18 ('teenager room' in the basement adjacent to the courtyard)
Café 't Hijgend Hert (a bear at the bar, sculptures and paintings)
Chassé Cinema (video projections and installation)
When: During BUT Film Festival starting from 1 till 5 september 2021
Opening: Wednesday September 1st at 7pm