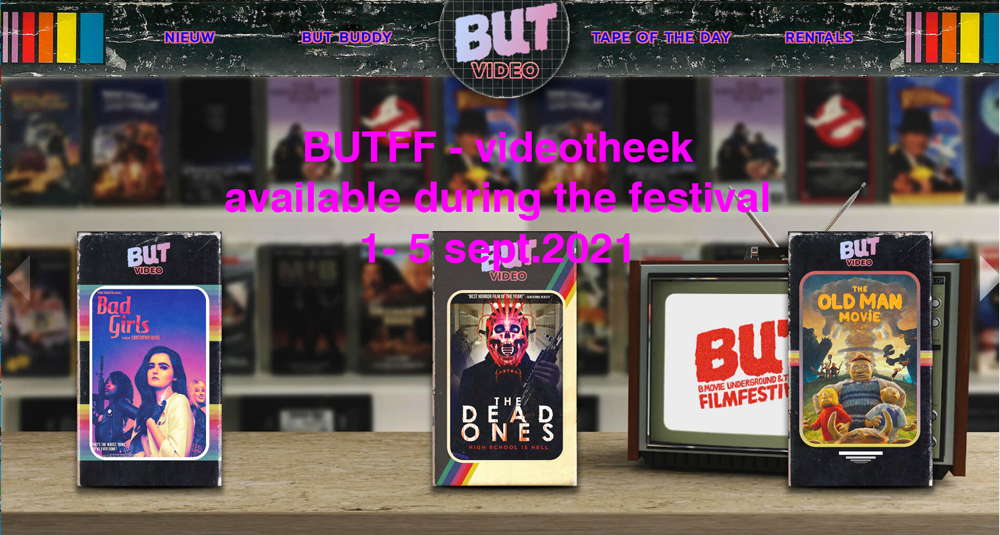 (sorry international BUTbuddies, due to geofencing the online program is only available from locations in the Netherlands)
Are you a real BUTbuddy, but you cannot make it to the festival? Bring the festival home and rent a film at our BUTvideotheek. Next to the offline BUT Film Festival from 1 to 5 September, you can watch your BUT film from your couch, bed or wherever you want.
Go to the VIDEOTHEEK button on the BUTFF.nl website and choose your film. For 6 euro, you can rent a film at specific times and your choice will stay available to you for 48 hours on Vimeo.
To have the full festival experience, you can order the BUT BUDDY BOX which consist of 2 BUT beers, 1 BUT beer glass, 1 BUT T-Shirt and promo material. You can get it at the festival or let it be delivered at your house.
Half august, the film program will be announced, but here is already a selection we want to share with you:
Monsters of Man
Director: Mark Toia
A robotic company teams up with a corrupt CIA agent undergoing an illegal, unsanctioned military operation. Dropping four prototype robots into a suspected drug manufacturing camp in the Golden triangle that no one will miss. The mission is to prove the robotics company is worthy of winning a lucrative military contract. Six doctors on a good cause witness the brutal slaughter of an innocent village and are forced into a deadly game of cat and mouse as they become the new targets. Picture of two hours of galaxy B-action and robot rumble in the jungle!
Bad Girls
Director: Christopher Bickel
Micromicrobudget feature. After robbing a strip club, three desperate teenage girls lead a misogynistic Federal Agent on a lysergic cross-country chase, scoring a duffle bag full of money, drugs, and a crew of willing kidnapees (the girls's favorite bands CHRISTMAS TITS and POLTERGASM) along the way. Director Bickel is known for THETA GIRL, our 2017 opening film.
The Death Ones
Director: Jeremy Kasten
Summer break is almost over. Four youngsters are punished by having to clean the school and can only leave when everything is spick-and-span. At first sight it looks like the school was left by a very enthused group of students, but soon they realize a horrible event has taken place. While trying to unravel the mysterious havoc, they are chased by four marauding, masked people. These four Gas Masks seem like the Four Horseman of the Apocalypse, as they represent Famine, Pestilence, War, and finally Death. They set traps and hunt the young students down. While the youngsters are fighting to survive, they discover that they're more involved with the ravaged school than they first thought.
The Old Man
Director: Oskar Lehemas, Mikk Mägi
Grandchildren come to visit the Old Man in the countryside for the summer. It is far from an idyllic summervacation at the Vanaisa, because the Old Man is working hard on both the children and his dairy cow. The thugs don't understand the rural customers and cause and the children have 24 hours to find the cow before unmilked udder must be defused before the mysterious Dairy Cow sends the cow to the heavenly meadow. With despicable hipsters in the countryside, wild boars, desperate sawmillers and a stubborn bear suffering from constipation.
African Kung Fu Nazis
Director: Samuel ''Ninja Man'' Nkansah, Sebastian Stein
Hitler, Tojo and Horse-Man Goering fled via submarine to Ghana after WWII to conquer the world with their Ghan-Arians. Only local Ghanaian Kung Fu Hero Addae stands in their way.
HALL
Director: Francesco Gianini
Fear goed viral. When a debilitating sickness spreads across a long hotel hallway, a few scattered victims fight for survival, and try to escape from the dark narrow stretch of isolated carnage.
Dark Encounter
Director: Carl Strathie
BUT Shorts
- Is Your Teen a Homosexual?
- Ascetic
- Right of Way
- My name is Koji
- Christalise
- Feed Your Muse
- Enter the Beardman
- The Smell of Clouds
- Sous La Mousse