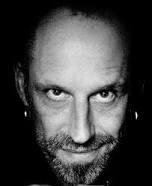 Film description
Director/artist Rosto, and his Studio Rosto A.D, are well known for their independent short films, online graphic novel, music videos and TV work.
His first shorts "(the rise and fall of the legendary) Anglobilly Feverson" (2002) and "Jona/Tomberry"
Rosto's work got the attention of international (music) artists.
For his film "The Monster of Nix" (2011) he collaborated with the Metropole Orkest, Tom Waits, Terry Gilliam, The Residents and "Reruns" completes his Thee Wreckers Tetralogy, his own music project that is now shown in its complete form for the first time.
Rosto didn't get a chance to finish writing his first feature film. He died at the age of 50 at the beginning of this year. Opening nights at festivals are joyous occasions, but this year we wish to pay tribute to a great artist, who - in memoriam - is present at at our festival.
THEE WRECKERS TETRALOGY (2009-2018) 44'10
Including : NO PLACE LIKE HOME (2008-6')
LONELY BONES (2012-10')
SPLINTERTIME (2015-11')
RERUNS (2017-14'15)
THE MONSTER OF NIX (2011), 30 min