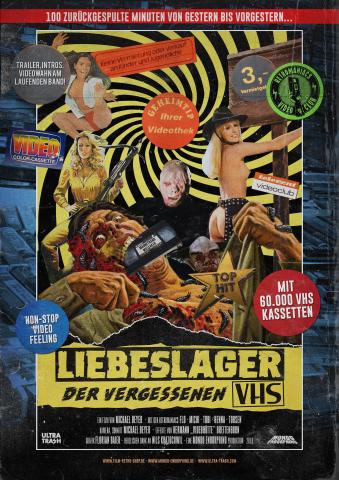 Film description
Retromaniacs - a Gang, a Lifestyle, a Collective
Anyone who mentions the word 'videotape' in Germany, also says 'Retromaniacs'. A bunch of hardcore video experts from all over Germany gathered in the biggest and last real 80's video store of the country. In a small village that no one would expect to be the VHS capital of Germany, they grew from creative nerds into friends and formed an outstanding collective of pro-guys who know their shit!
This documentary travels with them on their mission to find the holy grail: 60.000 VHS tapes (the biggest amount anyone has ever seen in one place) hidden in a monstrous hall where the tapes are stacked up to the roof. And they can get them for free, as long as they are able to get them all out of there...
A funny fetish road movie about a once-in-a-lifetime trip and dream come true for every VHS lover. This strange package comes in the guise of an 80's videotape programme surrounded by trailers, shorts and weird announcements from the days when VHS was the hottest shit in Home Entertainment...
Retromaniacs - The Warriors of Video… Recommended for the mentally retarded, 18+.