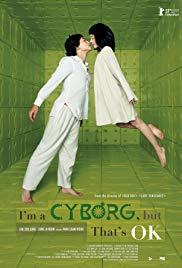 Film description
A young woman is locked inside a mental institution. She receives tender care and has nice friends - everything is fine, except she doesn't want to eat, since cyborgs don't need food. Along comes ping-pong playing Il-sun, who falls for the cute robot girl.
Park (OLD BOY) delivers the same inventiveness and intensity as in his previous films, but adds a romantic, fairy-tale like dimension.
The world is totally crazy, but as long as everyone plays along, we are all fine.
Details

Language subtitles

english