Film screening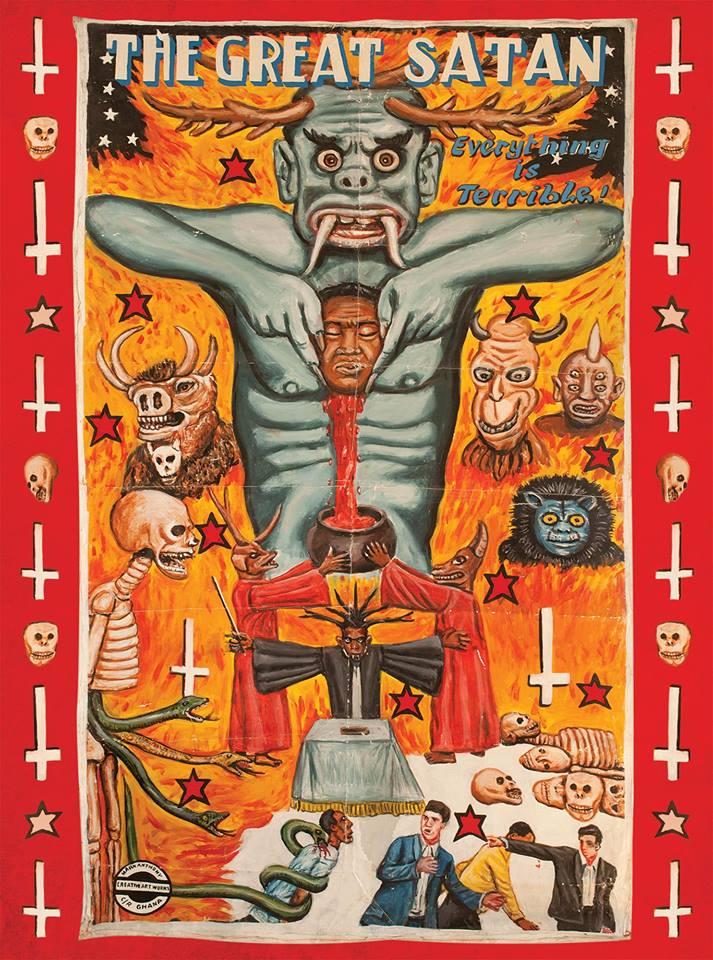 WHAT : Filmscreening of The Great Satan!
WHEN : Wednesday 15 May 2019 @ 20:30
WHERE : WORM Rotterdam, The Netherlands
The Great Satan:
Using footage from over 2000 VHS tapes, this found-footage comedy tells the story of our Dark Lord Lucifer. A wild, entertaining and thrilling ride with fragments of everything from satanic panic scare videos, (tutorials for teachers and parents, Christian children's entertainment, low-budget B-horror, Jerry Maguire and cheap religious rapture movies).
All remixed, re-edited and recontextualized by the gods of found footage; EVERYTHING IS TERRIBLE!
2017 / USA / 72 Min / English
Directed by: Lehr Beidelschies, Nick Maier, Dimitri Simakis
Watch the trailer here: https://bit.ly/2IpiGXX
website http://watch.everythingisterrible.com
Everything is Terrible! is a LA based collective of VHS aficionados who make fantastic art from the mountains of plastic debris caused by the digital revolution ('dead media'). They hold the largest collection of JERRY MAGUIRE videotapes (why? because it's cool to have 24.000+ of those tapes).
The Devil must feel honoured by the amount of devotion and dedication.🔥
PS. If you bring a vhs tape of Jerry Maguire, you will get free entry and we will send it to EVERYTHING IS TERRIBLE!
---
Date/Time
Wed 15th of May, 20.30
-
22.30hrs.
Location
WORM is a Rotterdam based artists collective, a venue, shop, cinema and workspace for music, film and new media, with the world as its playground. Transgressing normal segregations between media, we represent the authentic and the unruly, the obsessed and the adventurers. Born under the stars of punk, dada, fluxus, situationism and futurism, WORM has grown to a tenacious organisation that combines the 'do it yourself' mentality of it's ancestors with ultra-pragmatism. The output of WORM is film, radio, concerts, performances, webprojects, installations, cd's and a 24/7 webstation. WORM focusses on OpenSource, recycled material, superuse, seriousness and fun.
Address
Boomgaardsstraat 71, 3012 Rotterdam, Netherlands