Film screening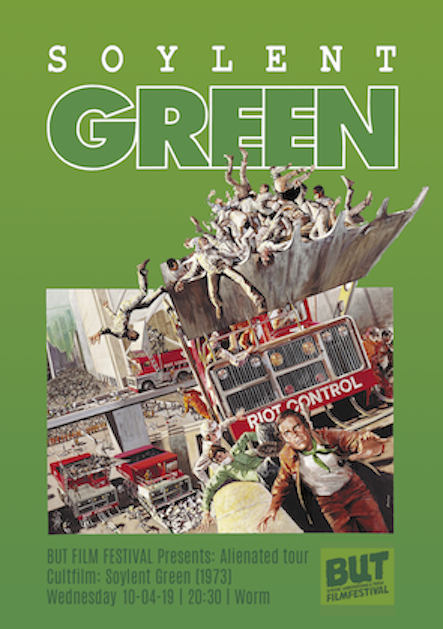 BUT Film Festival ALIENATED TOUR
Het Bredase BUT Film Festival (B-movies, Underground & Trash) kondigt haar 14de editie aan. BUTFF verlaat de veilige thuisplaneet voor een tour langs bevriende filmhuizen om het festival thema van 2019 te promoten: Alienated
Soylent Green
Richard Fleischer, VS, 1973, 97 min
De wereld is totaal overbevolkt en vervuild (in 2022 – we gaan het meemaken), de mensheid kan alleen nog gevoed worden met Soylent Green, een industrieel uit algen gefabriceerde drab. Door het broeikaseffect wil niks anders meer groeien en de wereldbevolking is aangewezen op Soylent Industries.
---
Date/Time
Wed 10th of April, 20.30
-
22.15hrs.
Location
WORM is a Rotterdam based artists collective, a venue, shop, cinema and workspace for music, film and new media, with the world as its playground. Transgressing normal segregations between media, we represent the authentic and the unruly, the obsessed and the adventurers. Born under the stars of punk, dada, fluxus, situationism and futurism, WORM has grown to a tenacious organisation that combines the 'do it yourself' mentality of it's ancestors with ultra-pragmatism. The output of WORM is film, radio, concerts, performances, webprojects, installations, cd's and a 24/7 webstation. WORM focusses on OpenSource, recycled material, superuse, seriousness and fun.
Address
Boomgaardsstraat 71, 3012 Rotterdam, Netherlands